Episodes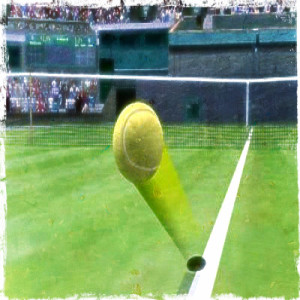 Tuesday Dec 18, 2012
Tuesday Dec 18, 2012
In Episode 22b, Ben and Courtney continue to power through your winter questions like a snow plow through a blizzard--except with way more sarcasm and debates over Ke$ha.  Topics include tournament travel recommendations, federation funding of less achieving players, and what sport we'd like to write about besides tennis. Also, we recognize the wonder that is Tsvetana Pironkova against Venus Williams, as well as some thoughts on the world of online tennis writing. And because we didn't get to say it on the air--Merry Christmas, y'all.
Tuesday Dec 11, 2012
Tuesday Dec 11, 2012
In Episode 22a, your questions keep Courtney and Ben from starving in the harsh tennis winter, for which they are very appreciative.  Topics include Australian things like Bernard Tomic, Sam Stosur, and Hopman Cup, as well as guilty pleasures like Jelena Jankovic and Serena Williams appearing on the Home Shopping Network.  This episode is ruched and very slimming--you should totally download one in each color.
Friday Nov 30, 2012
Friday Nov 30, 2012
In another post-season episode, Ben and Courtney answer lots of listener questions. You people help get us through this long, cold winter, and for that we are grateful. Topics include Kim Clijsters and Yulia Putintseva, who have faiiirly different personalities.  We also resurrect Take a Number and introduce the world (and ourselves) to Tita Torro. And then we discuss doping for a while because we haven't before and it seemed relevant even if it is a massive bummer.  But we end on a high (boy soprano?) note of Junior Eurovision which is sure to leave you feeling all warm inside.